COVID-19 Information & Resources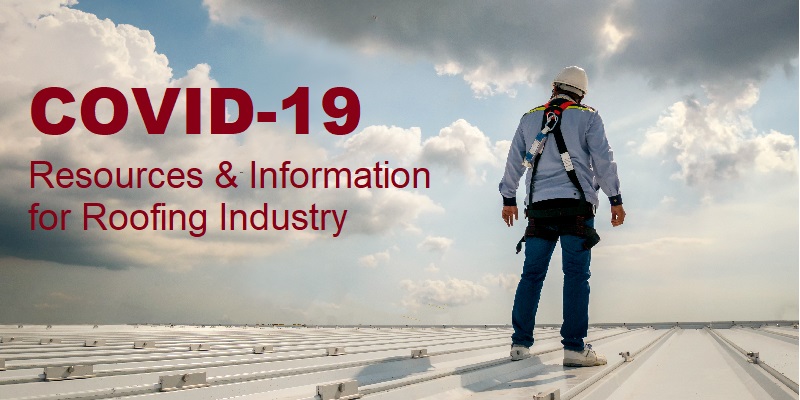 Keep your workers and businesses safe!
There is a lot of good information being shared throughout the roofing industry on how employers can make adjustments in their businesses and take measures to protect the health and safety of your employees during the COVID-19 pandemic. RCAT has created this page to combine valuable information and resources for your business and we will continue to update with links and the other current information that is being shared.
RCAT, NRCA and many other Associations like ourselves have also drafted and delivered letters at the Federal and State level to legislators,  making the case that "roofing" be included in any definition of "essential services" at the federal and state level so that our members may continue to operate their businesses.  The letter asks the administration to provide clear guidance regarding what an essential industry and essential worker is and makes it clear the roofing industry should specifically be cited in any guidance as essential.  Click to view a copy of the letter RCAT sent to Governor Abbott
We have also added a link to the Safe Roofs Over Texas sight so that you can also send a letter to YOUR state legislators and the Governor. Visit www.saferoofsovertexas.com now to submit your letter!
TEXAS NEWS & COVID-19
March 31, 2020 Governor Abbott Issues Executive Order, Implements Statewide Essential Services And Activities Protocols
March 19, 2020 Governor Abbott Issues Executive Orders In Accordance With Federal Guidelines To Mitigate Spread Of COVID-19 In Texas
March 13, 2020 Governor Abbott Declares State of Disaster In Texas Due To COVID-19
IN MOST TEXAS COUNTIES / CITIES residential and commercial construction (including roofing) is considered an "essential business." You can continue to work in these areas if you follow the social distancing guidelines. Your workers should also carry a letter that specifies who they work for and that they are providing an "essential service" to the community. RCAT recommends implementing an exposure prevention plan for your employees - below you will find more information.
Effect 4/1/2020 non-federal employers must post the the "Paid Sick Leave and FMLA" poster(s). Links to download the posters in English and Spanish are below.
YOU MUST CHECK WITH THE COUNTY / CITY THAT YOU ARE WORKING FOR SPECIFIC ORDERS AND ESSENTIAL BUSINESS CLASSIFICATIONS!
Listing of Texas County Orders due to COVID-19   Updated 4/13/2020 (this list and associated links are changing daily so please watch your local news for orders in your area!)
Essential Worker Letter - Compliments of HENDRICK PHILLIPS SALZMAN & SIEGEL, P.C.,  a draft letter for companies to give to employees who are performing construction services can be downloaded here: ESSENTIAL WORKER LETTER TEMPLATE
CISC COVID 19 EXPOSURE PREVENTION, PREPAREDNESS AND RESPONSE PLAN - The purpose of this plan is to outline the steps that every construction employer and employee can take to reduce the risk of exposure to COVID-19. The plan describes how to prevent worker exposure to coronavirus, protective measures to be taken on the job site, personal protective equipment and work practice controls to be used, cleaning and disinfecting procedures, and what to do if a worker becomes sick.  Use the links below to download and save this document as well as posters for your office.
English CISC COVID-19 Exposure Prevention Preparedness and Response Plan
Spanish CISC COVID-19 Exposure Prevention Preparedness and Response Plan
TEXAS DEPARTMENT OF STATE HEALTH SERVICES
NRCA
NRCA has created a page on their website with resources including legal, OSHA, and insurance information, as well as multiple other resources such as a Toolbox Talk and COVID-19-specific contract provisions.
https://www.nrca.net/covid-19-resources-for-roofing-contractors
OSHA
OSHA offers guidance for preparing workplaces for coronavirus.  Resources are available for employers and workers.
The U.S. Department of Labor and OSHA published "Guidance on Preparing Workplaces for COVID-19" to help companies respond in the event of coronavirus in the workplace.  The document provides practical guidance for preventing the spread of COVID-19, also known as novel coronavirus, and contains information on safe work practices and appropriate personal protective equipment based on the risk level of exposure.
OSHA recently launched a COVID-19 webpage that provides infection prevention information specifically for workers and employers, and is actively reviewing and responding to any complaints regarding workplace protection from novel coronavirus, as well as conducting outreach activities.
The Wage and Hour Division is providing information on common issues employers and employees face when responding to COVID-19, including effects on wages and hours worked under the Fair Labor Standards Act and job-protected leave under the Family and Medical Leave Act.
CENTER FOR DISEASE CONTROL (CDC)
For further information about Coronavirus, please visit the Centers for Disease Control and Prevention and specifically for Employers the CDC's Interim Guidance for Businesses and Employers.
The Coronavirus Crisis Doesn't Have to Lead to Layoffs
An article by the Harvard Business Review that talks about alternatives and options and choices. Read here.
HENDRICK, PHILLIPS, SALZMAN & SIEGEL
Essential Worker Letter - Compliments of HENDRICK PHILLIPS SALZMAN & SIEGEL, P.C.,  a draft letter for companies to give to employees who are performing construction services can be downloaded here: ESSENTIAL WORKER LETTER TEMPLATE
COTNEY CONSTRUCTION LAW
What Contractors Need to Know About the Payment Protection Program
Overcoming Social Distancing Challenges on Your Jobsite
COVID-19: Employer Guidelines for Employee Terminations
Key Contract Provisions Needed to Combat Coronavirus
Employers' Response to COVID-19
VIDEO:  Handling Crisis Management During the COVID-19 Pandemic
Is Roofing an Essential Service?
SMALL BUSINESS ADMINISTRATION
The Small Business Administration provides low-interest disaster loans to help businesses and homeowners recover from declared disasters.
Economic Injury Disaster Loan Program
President Signs H.R.6201, Families First Coronavirus Response Act
Congress passed the second piece of legislation in response to the coronavirus on March 18. In addition to offering free testing for COVID-19, it also does several things of interest to employers. Read summary here.
IRS - Tax Deadline for Individual Returns Extended to July 15
On Friday, March 20, 2020 the Treasury Department and Internal Revenue Service announced that the federal income tax filing due date is automatically extended from April 15, 2020, to July 15, 2020.